Thanks for checking out my review of the BATAVIA Paint Sprayer. I recently had the chance to try it out for some DIY projects around my home, and I'd love to share my thoughts with you.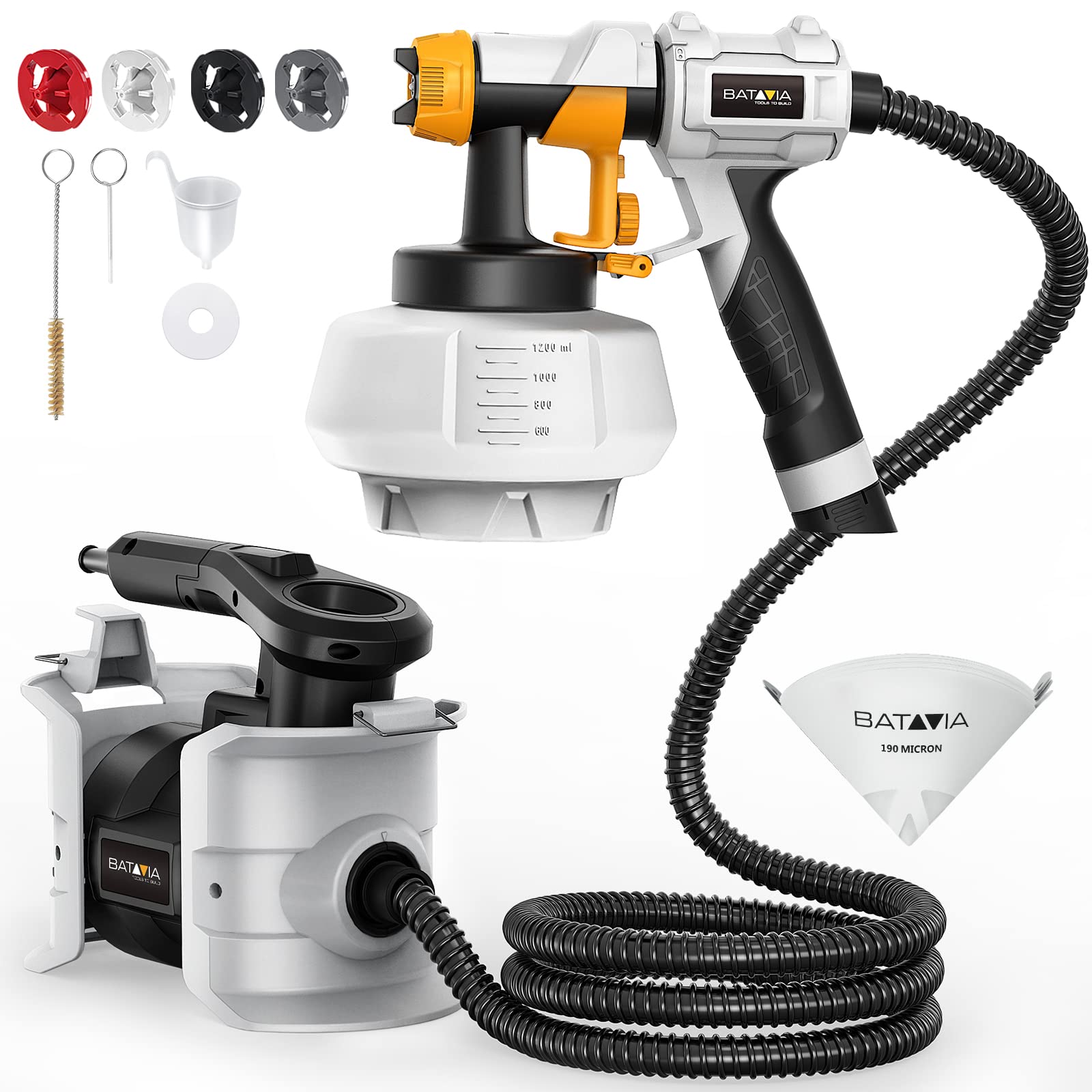 Pros and Cons
What We Liked
Powerful and even spraying: The 700W power of this paint sprayer ensures a fast and even application, giving a great finish to both small and large projects.
Versatile materials: The sprayer supports a wide variety of paints and stains, making it suitable for different types of projects. I found it particularly useful for latex paints and enamels.
Large working areas: The split design and lightweight handheld part allowed me to easily move around and reach a wide range of surfaces, saving me time and effort.
Adjustable settings: The air cap can be adjusted for horizontal, vertical, and round spraying patterns. Additionally, the material flow control knob allows for quick adjustments in material output.
Multiple nozzle options: The sprayer comes with 4 different spray nozzles, offering superior performance for different paint types and thicknesses.
What Can Be Improved
Weight and refill difficulty: The sprayer can get heavy after extended use, which is to be expected. Refilling the paint container can also be a bit challenging, especially without an extra set of hands or a pour spout.
Occasional clogging: The spray nozzle may get a little clogged after consistent use, but it's easy to wipe clean with a wet cloth while in use.
Quick Verdict
I highly recommend the BATAVIA Paint Sprayer for your DIY painting projects. With its powerful performance, versatility with different materials, and adjustable settings, it made my painting tasks much easier and more efficient. The multiple nozzle options provided excellent results, and the ETL certification ensures safety and quality. Although it has a few minor drawbacks like weight and occasional clogging, they are outweighed by its overall performance and convenience. If you're looking for a reliable spray paint gun, give the BATAVIA Paint Sprayer a try!
You can find more information about the BATAVIA Paint Sprayer and purchase it here.
Unboxing – What's Inside?
I recently purchased the BATAVIA Paint Sprayer, model BSG0180, from Amazon in the USA. The delivery was surprisingly fast, arriving within three business days. I was excited to unbox the product and start my painting project.
Inside the box, I found the following items:
1*Power Paint Sprayer
1*Guide Instruction
10*Filter Paper Cup
1*Viscosity Cup
1*Shoulder Straps (Lightweight to use)
Specifications
Here are the specifications of the BATAVIA Paint Sprayer:
Manufacturer: BATAVIA
Item Weight: 1 pound
Product Dimensions: 12.4 x 7.67 x 14.96 inches
Hose Length: 6.6 feet
Model Name: BSG0180-US700
Power Source: Electric
Style: Stationary Paint Sprayer
Item Weight: 16 ounces
Material: Polypropylene (PP)
Color: Grey&Black
Tank Volume: 1200 milliliters
Brand: BATAVIA
Documentations
The included guide instruction was a valuable resource in helping me understand how to operate the BATAVIA Paint Sprayer effectively. It provided step-by-step instructions and useful tips for achieving the best painting results. I was able to refer to the user guide whenever I had questions or needed clarification.
You can find the user guide here.
Features – What We Found
Powerful and Efficient Spraying Experience
The BATAVIA Paint Sprayer is equipped with 700 watts of power, providing a powerful and efficient spraying experience. This allows for faster and more even coverage, making it ideal for a wide range of DIY projects. Whether you're painting your home's interior or exterior, furniture, fences, cabinets, or walls, this paint sprayer will help you achieve a professional finish.
Pro-tip: To ensure optimal spraying performance, it is recommended to thin your paints or stains according to the viscosity cup provided. This will help maintain a steady flow and avoid clogging the nozzle.
Supports a Variety of Materials
This paint sprayer is designed to spray a wide variety of paints and stains, including chalk-type paint, latex paints, lacquers, milk paint, enamels, primers, clear sealers, polyurethane, stain, varnish, and more. It offers a maximum viscosity of up to 150DIN, allowing you to tackle various projects with ease.
Product Link: BATAVIA Paint Sprayer on Amazon
Wide Working Areas and Lightweight Design
The split design of this paint sprayer allows for a wide range of movement, with a maximum linear movement distance of 13FT and a working range of 530FT². This means you can cover large areas without the need for frequent repositioning. Additionally, the handheld part of the sprayer weighs only 1LB, reducing fatigue and ensuring high efficiency.
Adjustable Settings for Various Projects
The BATAVIA Paint Sprayer offers adjustable settings to suit any project. You can easily adjust the air cap to spray in horizontal, vertical, or round patterns, allowing you to customize your paint application. The material flow control knob can be adjusted to quickly increase or decrease the material output, giving you control over the paint flow rate.
Pro-tip: Before starting your project, it is recommended to test the spray pattern and material output on a scrap piece of material or cardboard. This will ensure you have the desired settings and avoid any surprises on your actual project surface.
Superior Performance with Multiple Spray Nozzles
This paint sprayer comes with four spray nozzles that offer superior performance. The 1.5mm and 2.0mm nozzles are ideal for thin paints like sealers and varnishes, while the 2.5mm (black installed on the paint sprayer) and 3.0mm nozzles are better suited for latex paint, chalk-type paint, and other thicker materials. This versatility allows you to achieve the desired finish for each specific project.
The BATAVIA Paint Sprayer is ETL certified, ensuring product quality and safety. It also comes with an 18-month warranty and quick customer service support within 24 hours.
Our Review
Our Score: 85.0
I recently purchased the BATAVIA Paint Sprayer for a home painting project, and I must say, it exceeded my expectations. The 700 watts of power provided a fast and even spray, making it perfect for both small and large projects. I used it to paint my home interior and exterior, furniture, fences, and even cabinets, and the results were fantastic. The finish was smooth and professional-looking.
What I really loved about this paint sprayer is its versatility. It can spray a wide variety of materials, including chalk type paint, latex paints, lacquers, and enamels. The included viscosity cup made it easy to measure the paint thickness. The adjustable settings allowed me to spray in different patterns and adjust the material flow control for precise application.
Furthermore, the BATAVIA Paint Sprayer is lightweight and easy to use. The split design provided a wide range of movement, making it convenient for large working areas. The four spray nozzles options offered superior performance, depending on the type of paint. I also appreciated the ETL certification for product quality and safety.
If you're looking for a high-quality paint sprayer for your DIY projects, I highly recommend the BATAVIA Paint Sprayer. It's reliable, efficient, and backed by excellent customer service. You can purchase it here and experience the same satisfaction I did.
Still not sold? Checkout These Alternatives
Are you considering the BATAVIA Paint Sprayer, but want to explore other options before making a decision? Here are some alternative paint sprayers that might suit your needs:
These alternative paint sprayers provide a variety of features and options to meet your specific painting needs. Whether you prioritize brand loyalty, versatility, power, adjustability, or customization, these options offer something for everyone. Take a closer look at the product details and customer reviews to make an informed decision based on your preferences.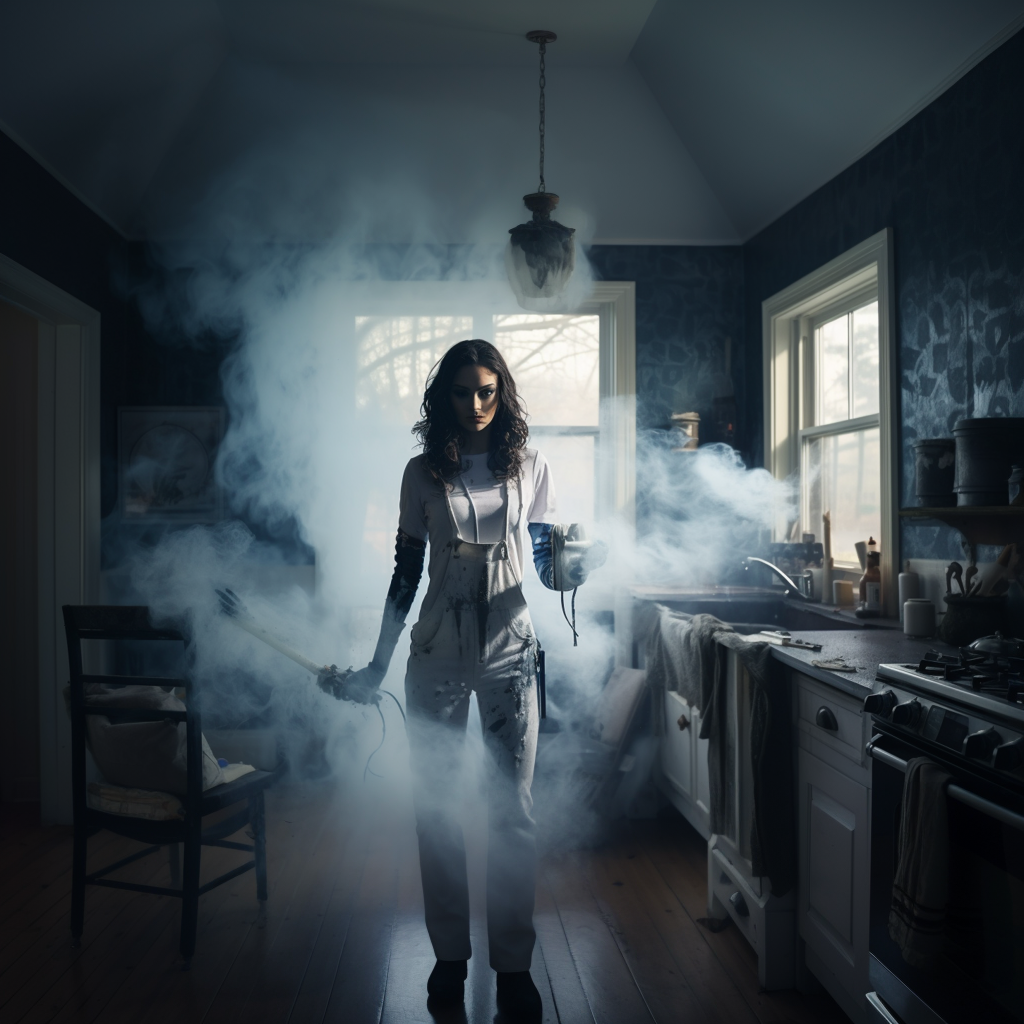 Drenched in creativity and armed with a fountain pen, Isolde weaves words as gracefully as a painter strokes their canvas. A writer for Paint Sprayer Zone, her passion for colors, textures, and spaces finds a harmonious blend with her profound knowledge of painting tools and techniques.
Having grown up in a family of artists, Isolde's tryst with paints began early. While her relatives expressed themselves on canvas, Isolde found her medium in words. She dedicated herself to chronicling the world of painting, understanding the nuances of each tool, and the artistry behind every spritz of a paint sprayer.